10% Tax ADDED to Your Tanning Salon.
Will it really keep people away? I certainly hope so!
(enjoy my comments in the pink)
Tanning salons burned by health care bill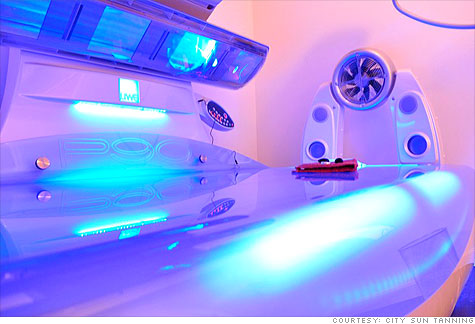 NEW YORK (CNNMoney.com) -- The Obama administration is turning up the heat on tanning salons across the country with the passage of its new health care bill.
To
help fund the $940 billion
health care overhaul, a 10% tax on individuals receiving indoor tanning services was tacked on, and the initiative is expected to generate $2.7 billion over ten years.
- I DON'T CARE IF YOU ARE PRO-BAMA OR NO-BAMA ... THIS TAX IS FABULOUS IN MORE WAYS THAN ONE!
As a result, many salon goers and owners are outraged by the so-called "tanning tax" and think they're being unfairly targeted by the bill.
- WHY, BECAUSE HANDING OUT CANCER TO PEOPLE IS FAIR?
"It's terrible," said Jan Meshon, owner of City Sun Tanning in New York City. "You know how they say that passing a bill is a bit like making sausage? Well this was the weirdest, ugliest piece of sausage to get stuffed into the bill."
- HUH? JAN MUST HAVE BEEN IN THE TANNING BED ONCE OR TWICE AND FRIED THAT BRAIN!
WTF WAS THAT EXPLANATION?
City Sun Tanning customers are shocked and disappointed by the tax as well, and Meshon said he expects the tax to hurt business.
"We'll do everything to keep our customers, but they are very upset by this," he said. "When they first hear about the tax, their reaction is, 'What? How did that get in there? Why are they attacking me?'"
- BECAUSE INSTEAD OF MAKING IT ILLEGAL THEY JUST SLAPPED ON A TINY TAX. DON'T WORRY JAN, THEY WILL CLOSE YOU DOWN ONE DAY. VICTIM.
Meshon said the average customer spends about $15 to $20 per visit, and a typical tanning session lasts about 10 minutes, which is roughly the equivalent of thirty minutes in natural sunlight.
"An extra 10% on top of that is definitely not helpful," he said. "All of our customers would like to spend less already."
Adrienne Zarisky, a regular tanner, said she has used tanning salons several times a week for the last two years in order to maintain sufficient levels of Vitamin D.
"I use it not so much for the cosmetic effect as I do for my health," she said. "But of course, in the dead of winter it just feels so good."
- THIS ONE IS MY PERSONAL FAVE! WHATEVER HELPS YOU GO TO SLEEP AT NIGHT HUNNI, I'M SURE IT'S THE VITAMIN D (DON'T THEY SELL IT IN PILL FORM?)
OH WAIT, YOU ADMITTED THAT IT JUST FELT SO GOOD IN DEAD OF WINTER, OK, I FEEL BETTER THAT YOU JUST ADMITTED TO YOUR TANNING COFFIN ADDICTION NOW. :)
Zarisky said she probably won't change her tanning habits because it's still "cheaper than having to take sunny vacations three times a year," but she is sure the tax will cause financially-strapped tanners to give up bronzing, and in turn, will seriously hurt the salons.
- GO BUY A BOTTLE OF TAN FOR $12 THAT WILL LAST YOU A MONTH ... PUH-LEEZ! FINANCIALLY STRAPPED?
"I really fear for the salon owners," she said. "The place I go has really been a fixture in my neighborhood. I got to know some of the people that work there and they're lovely people -- I would just really hate to see people like that lose their jobs."
Jobs on the line
The tanning tax will go into effect July 1 and will apply to electronic products designed for tanning that use one or more ultraviolet lamps with wavelengths between 200 and 400 nanometers. Other sunless tanning options such as spray tans and tanning lotions are not included in the tax.
- OH, I WONDER WHY THOSE AREN'T PART OF THE TAX BILL? HMMM ... MAYBE BECAUSE SPRAY TAN AND SELF TANNERS AREN'T KILLING PEOPLE!!!!
"This is going to close tanning salons," said Joseph Levy, vice president of the International Smart Tan Network, which has 3,000 member salons. "You can't just pass on a tax like this to customers and not have it hurt your bottom line."
Levy estimates that about 9,000 jobs are in jeopardy and more than 1,000 salons are at risk of being forced to close their doors. The tax also targets middle-class and female business owners, with about two-thirds of tanning salons in the U.S. owned by women, he said.
- THOSE EMPLOYEES CAN LEARN TO SPRAY TAN! START YOUR OWN MOBILE SPRAY TAN COMPANY PEOPLE!!!
THAT BUSINESS IS ON THE RISE AND IT'S A MONEY MAKER IF YOU WORK IT!
In addition to putting thousands of employees out of work, Levy predicts the tax will ultimately generate 40% to 50% less than the projected $2.7 billion.
"There was no due diligence done on how much money this will raise, and it's going to be nowhere near what they are expecting," he said. "After taxing female entrepreneurs and primarily female customers, this is the other part of what's so repulsive about this tax."
- OH THAT'S RIGHT, OBAMA CREATED THIS BECAUSE HE DOESN'T LIKE WOMEN, LOL!!! WHO IS THIS GUY LEVY AGAIN? SOMEONE IN FINANCE? SOMEONE IN EMPLOYMENT DEPT.? OH ... WAIT ... NO ... HE WORKS FOR SMART TAN. LMAO!!!!
"We have more than 200,000 signed letters to Congress between our businesses and customers," he said. "We're hopeful that the Senate and Senators we've talked to will come through and get this ridiculous tax out of the bill."
As another last ditch attempt to remove the tax, the Indoor Tanning Association has started a Web site, Stopthetantax.com, where tanning salon owners and customers can send personalized letters of opposition directly to state representatives and senators.
- PLEASE SEE MY LETTER I GOT TO WRITE TO STATE REPRESENTATIVES AND SENATORS!!! IT'S BELOW!
Cutting out the 'Botax'
The 10% tanning tax has replaced the 5% tax on cosmetic surgery that was originally included in the bill.
That tax, nicknamed the "Botax," would have included Botox injections and breast implants among other elective surgeries, but was cut out of the bill last year after heavy lobbying from the medical and dermatology industries.
Because the Botax was expected to generate $5.8 billion, more than double the amount the tanning tax is projected to raise, many tanning industry professionals are furious about the switch, arguing that while the tanning tax targets middle-class, women-owned businesses, the Botax would mainly impact wealthier Americans who would be more able to handle higher prices.
The American Academy of Dermatology, which strongly opposed the Botax, applauded the inclusion of the tanning tax as a replacement because of the significant health risks associated with indoor tanning.
According to the Academy, indoor tanning before the age of 35 is linked to a 75% increase in the risk of melanoma, the deadliest form of skin cancer, which has also become more common in young females. Meanwhile, nearly 30 million Americans hit the tanning beds each year and about 2.3 million of these people are teenagers.
- ISN'T THAT LOVELY? TANNING COFFINS!!!!! YUCK!
An indoor tanning tax will therefore "serve as a signal from the federal government to young people that indoor tanning is dangerous and should be avoided," said Dr. William James, president of the academy.
In addition, because the United States currently spends about $1.8 billion on treating skin cancers each year and $300 million on melanoma alone, the tax will significantly reduce the future costs of treating skin cancers, Dr. James said.
Meshon and Levy, however, said many of the health concerns over indoor tanning are unjustified and exaggerated.
- RIGHT, BECAUSE THE OWNER OF A SMALL TANNING SALON BUSINESS AND A MAN WHO WORKS FOR SMART TAN KNOW THESE EXACT DETAILS? AGAIN, PUH-LEEZ? THEY ARE IDIOTS.
"It's at least as good for you as it is bad for you," said Meshon. "There's a lot of misinformation out there and scare tactics trying to make indoor tanning sound like the scariest thing in the world, and while there are risks to tanning like almost anything else you do, the risks in tanning are relatively low." - UMMM, NO COMMENT. APPARENTLY THIS BRILLIANT PERSON HAS DONE A LOT OF RESEARCH. BUT, WHERE ARE THOSE FACTS? YEP ... THAT'S WHAT I THOUGHT! NONE.
PLEASE OH PLEASE PRAY THIS TAX WILL KEEP EVEN MORE PEOPLE OUT OF THOSE TANNING COFFINS!
HERE WAS THE LETTER I GOT TO WRITE TO THE STATE REPRESENTATIVES AND SENATORS ON THAT SITE: STOP THE TAN TAX -
(I JUST ADDED MY OWN WORDS IN BOLD, ENJOY LOL)
To the United States Congress,
Please KEEP the Tan Tax!
I am writing to MAKE SURE the tax on sun tanning that was included the health care reform legislation STAYS IN PLACE.
This tax will ultimately be paid by the consumer and working Americans, working women and college students. AND MEN WHO I SEE GO IN THERE ALL THE TIME, INCLUDING ALL THE PORN STARS AND ALL THE INNOCENT CUSTOMERS WHO ARE KILLING THEMSELVES EVERY TIME THEY STEP FOOT IN A SALON ... It is wrong - THAT'S TRUE, IT IS WRONG THAT THESE TANNING SALONS ARE STILL OPEN AFTER THE MANY CASE STUDIES THAT SHOW A DIRECT LINK TO CANCER.
I USED TO regularly suntan indoors UNTIL I HAD A SKIN CANCER SCARE and DO NOT resent this attack on these small businesses.- I DON'T FEEL BAD FOR A BUSINESS JUST BECAUSE IT'S SMALL IF IT'S HANDING OUT CANCER. Indoor tanning salons are an important part of every community, providing jobs and a service we seek. - NO NEED TO SAY ANYTHING HERE. THERE IS NO IMPORTANCE TO THESE TANNING COFFIN SERVICES.
Please tell House and Senate leaders to say YES to this NOT outrageous NOR unnecessary, IT'S WONDERFUL AND PERFECTLY NECESSARY tax on small business.
Sincerely,
ERICA FIELDS - THE TANNING MOM
http://tanningmom.blogspot.com
You can find this article and more on http://money.cnn.com/2010/03/24/news/economy/tanning_tax/